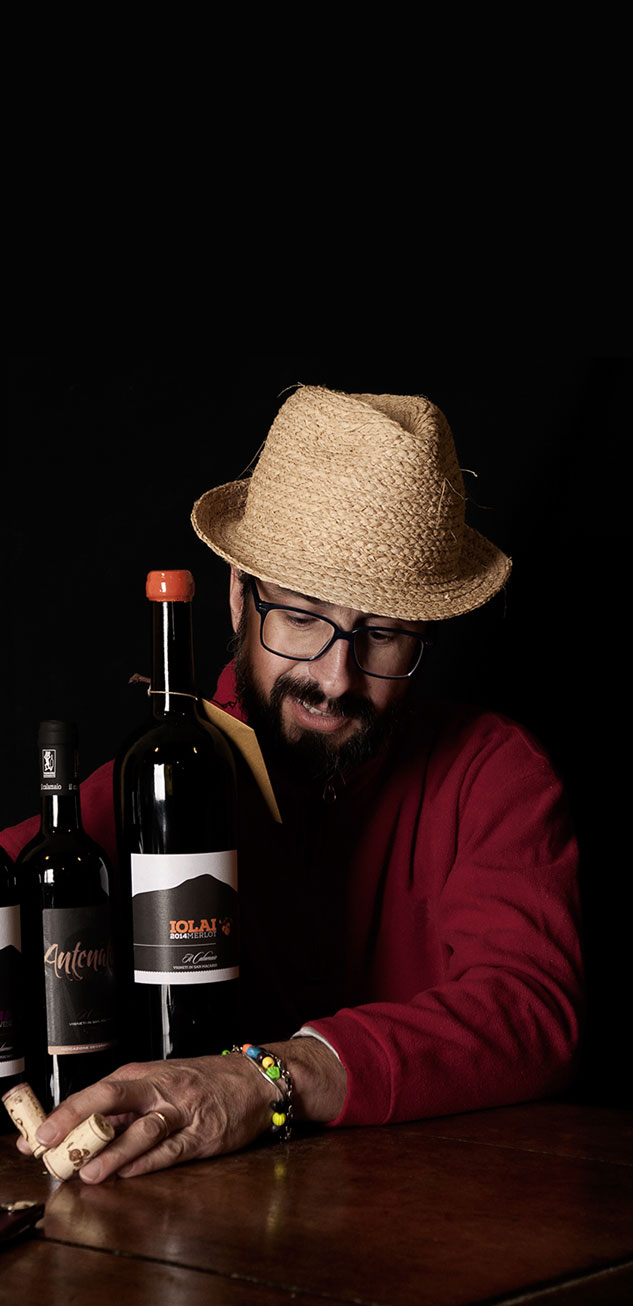 Samuele Bianchi
Winemaker and engineer
My name is Samuele Bianchi, I was born in 1971, I am from Lucca, where I live and work. Even though I am a qualified Engineer, I also run my small vineyard right here in Lucca.
Where di the passion for wine making begin?
My grandfather undoubtedly contributed to this; as a child he would often take me with him to his small farm where he cultivated wine and olive oil. He was the one who introduced me to the taste of wine and to the appreciation of it.
Over the years my passion for wine has developed from being a consumer, into a wine taster and sommelier. In 2003, whilst searching for a house for myself, I discovered "Il Calamaio" and it was love at first sight; a beautiful house to be restored, a vineyard to be brought to life and a strong passion to be grown. From that moment I launched myself into this challenge and today I have a vineyard of around two hectares and a small olive yard.
I lead a very frenetic lifestyle, pulled between work and family, knowing that Il Calamaio is where my heart belongs.
San Macario in Lucca
Il Calamaio is a small vineyard situated in San Macro in Monte, just a few kilometres from the walled city of Lucca. It is perfectly exposed on the East-West which enables us to use the strength of the sun most of the day, the breeze of the Versilia coast which helps us in the bilogical wine process, the sloping hills which help the quality of the soil enabling it to be perfectly moist.
BIO Passion
In 2016, the company was recognised by the ICEA organic certificates, which labelled our wines "Biological", a characteristic which is a portrayal of the rich soil in which they are produced. Quite frankly we have always cultivated our wines by use of organic methods however, we realised that there was a need for certification and that it was of utmost importance in order to reassure new customers of this value.
Wines that tell a story
The organic road was an easy option for us, as we fully believed in cultivation without the use of chemical substances. We therefore let nature carry out it's own process, thus defending our territory and it's population. This process is also carried out in the wine cellar, throughout each phase of the wine making. We only use sulphur and indigenous yeasts, and avoid inert filtering agents, letting the natural flavours of the grapes and their territory to be sole characteristics of our wines. We like to know that who tastes our wines can flavour the essence of our cultivation.
Il Calamaio's moto
il Calamaio
"Love at first sight"
Our climate, our territory, our hard work and above all, the characteristic of the people that surround us can be found in our wines.
Il Calamaio
Il Calamaio in Tuscany
We are situated in Tuscany, not in the well known areas of Brunello di Montalcino or Chianti, but in LUCCHESIA, which is an area enhanced by exceptional beauty and fascinating walls which surround the city. Good wine has always being a product of the area and even though most vineyards are situated very close to the city walls, it's territory has been unspoilt maintaining its authenticity over the decades.
Our wines proudly represent Lucchesia.. so why not come and do some tasting..perhaps a sip or two or even a glass or two!!!!
Numbers
Of our ``small vineyard with a huge passion``
Our work
is carried out with passion and love, respecting nature and our territory
Sangiovese of Lucca, the "King" of wines in a new and passionate form.
Lucca's famous wine in its most traditional fashion with just a hint of innovation.
Not only tradition but also an international flavour.
Rose' of Sangiovese:  my dad's wine!
Merlot in a Magnum..ideal for some of us.
photos that tell a story.
il Calamaio
Where you can find us
Via delle Gavine, 1707
55100 Lucca (LU), Italia
8 km from Lucca centre and from the A11 motorway exit indications can be found on the following link:
Get directions